Theben Smart Home & KNX Training Case
This is how you teach & learn building automation!
The training cases from Theben are the perfect tool for in-depth technical training in building automation. The included devices are focused on the standard functions of a building (switching & dimming light, shading, heating, sensor technology) and enable a wide range of further applications.
The training cases are already used for training in the field of smart home, network technology as well as KNX certificate courses. The intuitive layout of the cases enables focused learning by the participants. They are not distracted by interfering influences, such as complex operation or elaborate wiring.
Due to the safe construction of the training cases, they can be used by people from the age of 11. This also allows them to be used in schools.
TIP: You can find Torben Ledermann's extensive test video with all the details here.
Advantages for teachers
Focus on the essentials: Pre-wired devices eliminate the need for learners to perform wiring - which also reduces time spent troubleshooting.

Easy to transport: The training cases feature a robust case housing and are easy to transport and store.

Easy reset: "After the lesson, ready for the next lesson..", due to the integrated bus reset button all devices of the case can be reset to factory settings in less than one minute. Thus, the cases are easily and quickly prepared for the next teaching session.

Flexible and expandable: No matter what topics are added to the syllabus, the training cases from Theben provide the solid basis. With the included KNX bus adapter, the case can be expanded with additional KNX devices at any time - regardless of the manufacturer.

Three topics with one teaching aid (Smart Home training case)
Easy smart home programming with the KNX based smart home system LUXORliving and the free and intuitive commissioning software LUXORplug - including app operation via LUXORplay
Advanced parameterization of devices via ETS - the official commissioning tool of the KNX Association.
Wireless and wired network technology through the integrated WLAN/Ethernet router.
Advantages for learners
Direct and simple display of actions: All actions are displayed directly on the integrated building floor plan. Including a digital blind simulation via an LED matrix.

Fast direct access to functions: All actions can be triggered via the front keypad of the actuators - even without parameterization.

Learning on the model: Using sample projects, the various functions can be examined and then reproduced.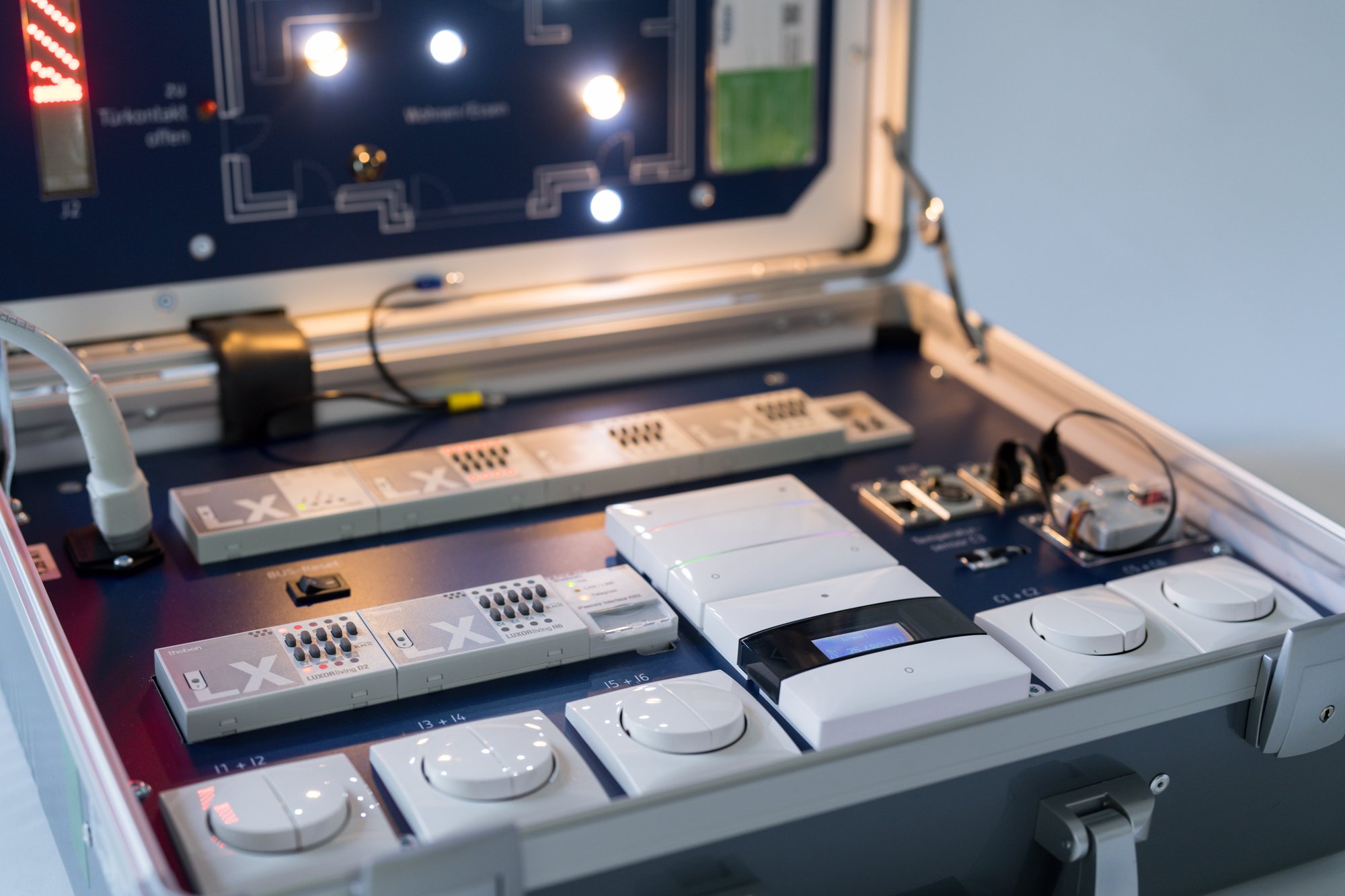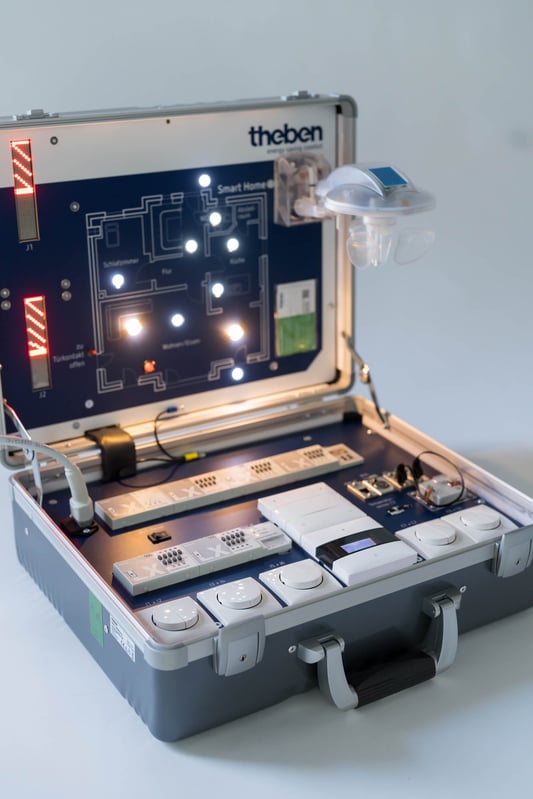 Smart Home Case: The most important functions at a glance
Switch

On/Off
Time switch
Twilight switch
On / Off delay
Staircase lighting circuit
Pulse switch
Dim

On/Off

Relative and absolute dimming
Time-dependent dimming value limitation
Shading

Roller shutter, blind and awning control

Automatic shading

Wind, frost and rain alarm for curtains and awnings

Integration of a door contact
Indoor temperature

Heating

Cooling

Heating & Cooling (Combined)

Heating interruption with an open window
Push button sensor

Integrating conventional push-buttons via 230 V binary inputs

Integration of conventional push-buttons via push-button interfaces

Push-button with optical feedback (RGB LEDs / display)

Room controller with room temperature control
Scene control

Control multiple devices with one button press
Timer functions

Switching

Dimming/dimming value limitation

Heating

Blinds


Scenes

Automatic sun control
Presence simulation

Define simulated room use profiles
Panic mode

All lights on
All blinds up
Lock operation
Visualisation via smartphone app

Operating the individual functions

Display of the individual states and values


User and rights management
Weather sensor system

Twilight control

Frost alarm

Multi-level wind alarm

Rain alarm


Directional shading (4 light values)
KNX

Configuration via ETS
Expansion with additional devices - Manufacturer-independent
KNX-IP interface
Incl. KNX adapter plug
Network technology

IP address
SUBnet Mask
Gateway
MAC address
Fixed addresses
WAN uplink
DHCP
Wireless settings
Different operation modes
Guest network
System tools
The KNX training case: Everything for aspiring KNX professionals
Our KNX training case is the perfect tool for standardised certificate courses of the KNX Association, The devices and functions contained in it are oriented towards the prescribed course contents (KNX basic and advanced course) and can be easily connected to each other via a KNX IPsecure router. Thus, a more complex topology with different building parts can be simulated with several cases.

The KNX training case contains the following device types: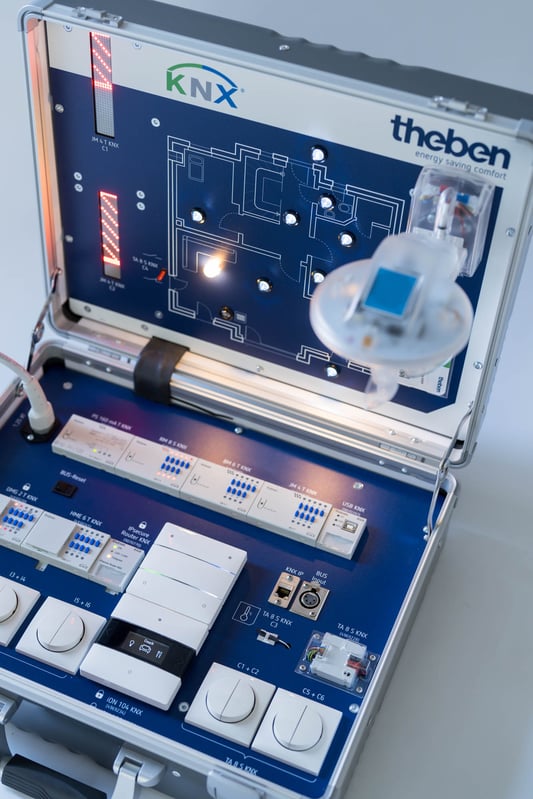 Request your training case now!
Would you like to use Theben training cases in your training and education programmes? With pleasure! You can send us your enquiry directly using the form. We will get back to you as soon as possible.